Hoping for a chip off the old block we entered our new VITAL BLOODLINE foal "Vital Attack" in to the LJ Maiden 4 tournament.
Specifically going after the Z20+ category and the Best Cross category which his father won last month at LJ Maiden 3.
Day one went well, Attack only missed the podium once and ended the session with results of 5 – 1/2/1.
Day two went even better with results of 5 – 1/3/1.
This time he hit the podium in all 5 races.

Vital Attack's record after 10 qualifying races. (The 11th race was a Zed QF)
At this stage Attack was holding his own in every category possible.
Best Z20+, Best Cross, Best Z10+, Best Szabo and even Best Horse Overall!
Excited we smashed out as many races as we could on day 3.
9 to be exact.
We asked him to run and run he did, starting the day with back to back dubs.

Victory for Vital Attack.
There were a couple of 4th places with flames but there were also 4 further podium finishes for daily stats of 9 – 2/3/2.
We would have run again but his stamina sat below 90%.
He was still in the hunt for all possible categories so we rested him and ran the final race fresh the following day.
He picked up a 2nd place to end the qualifying period with stats of 20 – 4/9/4 and a very impressive 80.95% show rate!

Vital Attack's record after all 20 qualifying races.
All in all some great results for qualifying with Attack finishing 4th in Best Cross, 3rd in Best Szabo, 6th in Best Z10+ and 3rd in Best Z20+ making the Grand Final for all 4 categories.
With the allure of glory shining Mr Attack flamed at every single distance in the Z20+ category and went on to take 3rd place overall in the Grand Final!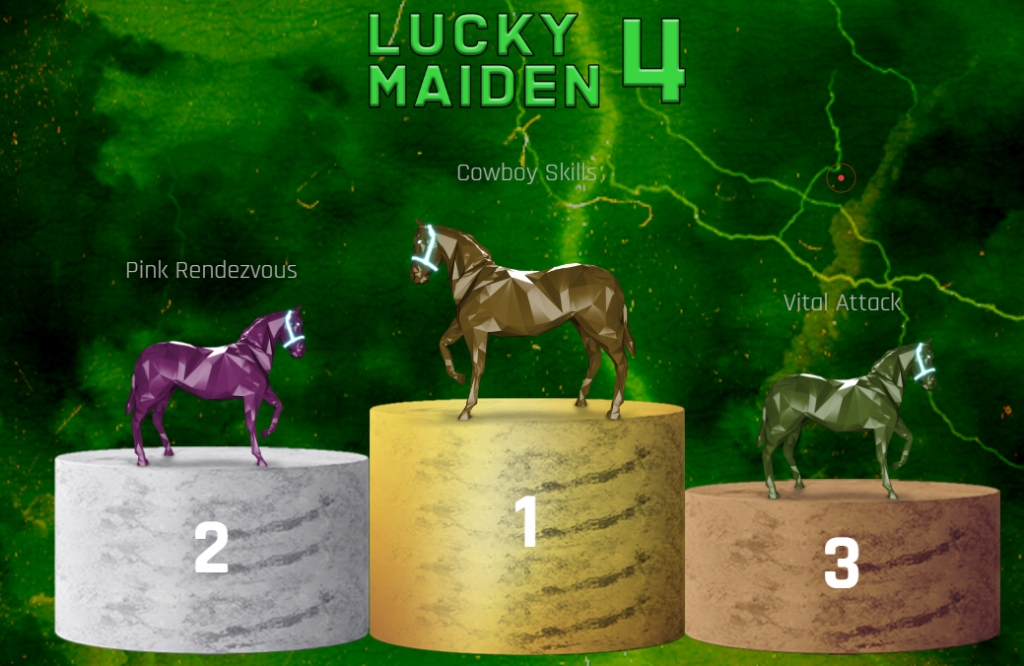 Vital Attack takes bronze in the LJ Maiden Z20+ category.
Yes, bronze is an achievement but his Father had been a champion and soon enough Attack would be a champion too, taking out 1st place in the Z10+ category!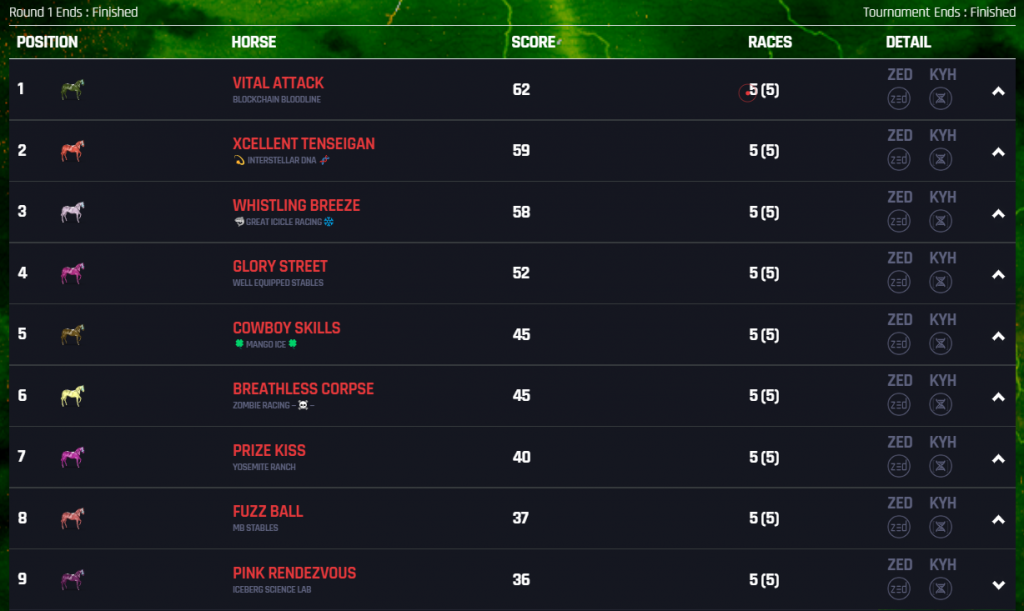 Vital Attack wins Best Z10+ in the LJ Maiden 4 tournament!
The next category was the Cross/Pacer Grand Final and making it that far is an achievement too but this time that was as far as it went with a 9th place finish overall.
Then came the most serious competition he had faced yet against the Legendary, Exclusive and Elite Szabo's.
We weren't getting our hopes up for our Z20+ Cross.
Well that was until he went in to the final race as a mathematical chance of being the best Szabo overall.
He needed a 1st place finish and flames gave us hope but Alas a 3rd in his final run was as close as he could get, finishing in 4th place overall.
It was close though, just missing 3rd place overall and some more breeding eth by 2 points.

Vital Attack 4th Best Szabo overall in LJ 4.
So it turned out Attack wasn't just a chip off the old block he is a serious Szabo Cross himself.
For now he awaits the next Cross Conditional and has plans to sire a son that will do him proud like he did for his father.
Were confident his dreams will come true.
Thanks for reading guys and good luck on the track!