Zed Run is a racing game, a game of speed and so it goes without saying that we're all trying to breed the fastest horse in the game.
BUT whether you have the fastest horse or not the question here is "How well do you know your horse?"
If you think you know your digital equine inside out then the Bracket Series BLQC Party might be the tournament for you.
Instead of competing to be the fastest, you're in a sense, competing to see who has the most knowledge, to see who knows their horse best!
And not just at their preferred distance but over a number of races across the spectrum from sprint to mid to marathon. (1000m/1400m/1800m/2200m/2600m)
Class, pedigree and bloodline are irrelevant.
Nothing matters but how well you can predict your horses finishing time.
For the beginner to intermediate player the tournament offers a novice bracket and for the seasoned jockey there's a pro bracket with the event running weekly in the lead up to a live streamed major finals event direct from Las Vegas.
All BLQC Party entry fees are RAKE FREE, distributed back into the tournament prize pool (minus 1% held for future events) and handsomely juiced up by tournament affiliates Blockquarry!
This week's extra juice on top of the prize pool allocation is 0.115ETH which will be allocated to the $1 and $5 entry brackets. (There are $1, $5 and $25 entry brackets)
For the breakdown of how these entry fees will be distributed please refer to the chart below and stay tuned for the Blockquarry juice announcements!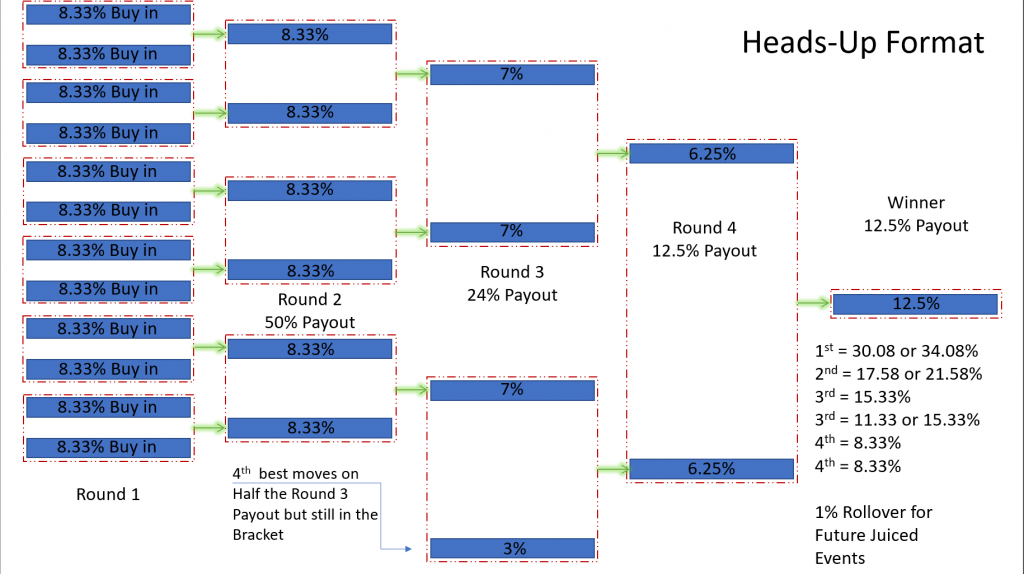 If you have any questions reach out to event organiser "The Accountant" on Twitter HERE
You can also check out his latest Twitch stream covering more details about the event HERE
So if you think you know your horse or just want to get involved in what looks like a really exciting community run event then hit up the Discord HERE or jump straight into the entry form HERE (novice) or HERE (pro)
I know The Accountant has been working hard on this event so big thanks to him for setting this up and big thanks to Blockquarry for adding in that sweet juice!
See you on the track guys.