The races have run, the cheers have died down and the winning stables have taken home their share of the $81,000 prize pool.
It's been another exciting Zed Run Maiden tournament and we had a blast cheering our horses on for the win.
In fact, we had so much fun that I wanted to sit down and write a recap of our tournament experience.
This week we had 4 freshly bred foals ready to go from our ever-growing spreadsheet of planned breeds.
2 of those qualified for the finals, our Z9 Exclusive Szabo (C3) and our Z17 Exclusive Buterin (C2).
Not a bad hit rate.
Here's how our two finalists did.
The Answer Is Yes (Sprinter):
Our Z17 "The Answer Is Yes" was a repeat of a promising pairing we bred for the last Maiden tournament.
The pair previously bred a solid 350 level foal for us which has had some success in paid racing.
This time round the foal received what I think is the perfect roll for this combo.
Some really solid DP and enough VAR to get it done on the track.

The parent combination for "The Answer is Yes"
Though we were hoping for a level of around 390-400 so we could land at the top of C3 the foal came out at level 407 which had me a bit worried as it would then have to run against much higher-level competition in C2 qualifiers.
Those worries were quickly relieved when the horse drew flames over higher level C2 opponents and a Z2/C1 Nakamoto Legendary in its Griffin.
After picking up a second place in its Griff it then ran 6th, 3rd, 10th, 2nd and 1st at a 60% flame rate, finishing its 5 qualifiers in the top 20. (The top 96 go to the finals)
Having ended the run with a 2nd and a 1st, I decided it likely had too much VAR to perform well in its next race and entered it for a 6th qualifier where it ran 8th.
In the end "The Answer Is Yes" qualified in 50th place and moved on to the finals.
Running that extra qualifier turned out to be a smart move too as the horse got the other side of the VAR roll and took 1st place in its first finals race.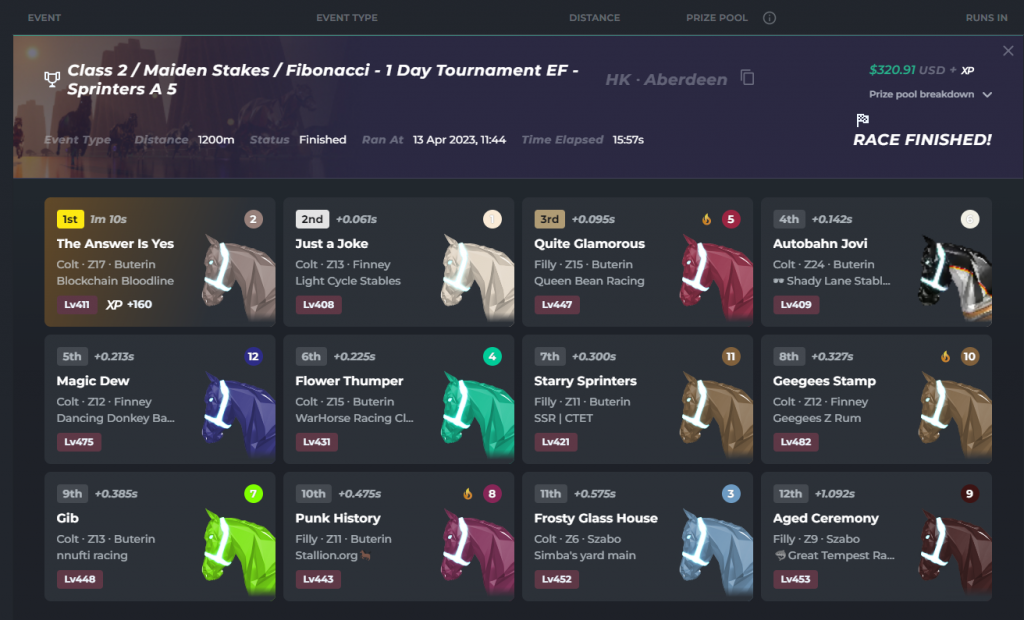 Finals win "The Answer Is Yes"
Unfortunately, as often happens, that VAR roll went the other way in the following quarter final and the horse's tournament run came to an end.
All in all though, a good result as the horse looks to have a bright future as a competitive paid racer and has already earnt roughly 5 times it's breed cost from that single finals win.
He's already flaming and winning at the low 400 level band so I can only imagine what he will be like when he reaches level 500!
Look out Mirajo!
Hi Tech Weapon (Sprinter):
Our second finalist was bred from two parents we hadn't paired before, but we will definitely be pairing again after the foal's performance over the past couple of days.
The mother here was our top breed mare, an unraced Z1 Nakamoto named "Alacazam" who has bred well in the past and the father was a nice Legendary Szabo we bred back in 2.0.

The parent combination for "Hi Tech Weapon"
This time around we were aiming for less VAR but good DP and it looks to have worked out well.
The foal was "Hi Tech Weapon" (level 393) and he started well winning a 1v1 griffy along with his second qualifying race.
He didn't drop a flame as he progressed through his qualifying and after 5 races I thought he was sitting pretty for the finals.
That was until the qualifying period was extended and his rank slowly crept lower and lower, eventually dropping below the cutline with an hour to go.
With 40 minutes to go he was entered into another qualifying race where the worst-case scenario eventuated, a 10th place finish.
This pushed him well outside of contention and time was running out.
Only a win could get him back in to the finals.
With 20 minutes to go I entered him in to a 1200m race and some serious anxiety set in, increasing with every minute that passed.
I wasn't sure the race would even run before the 10am cut off time.
The race just managed to fill, and gates opened with 2 minutes remaining on the clock.
Hi Tech Kicked and pushed hard, getting a nose in front and taking the win with about 40 seconds remaining to qualify.
He went on to finish in 28th place of 48 available places overall, moving on to the finals.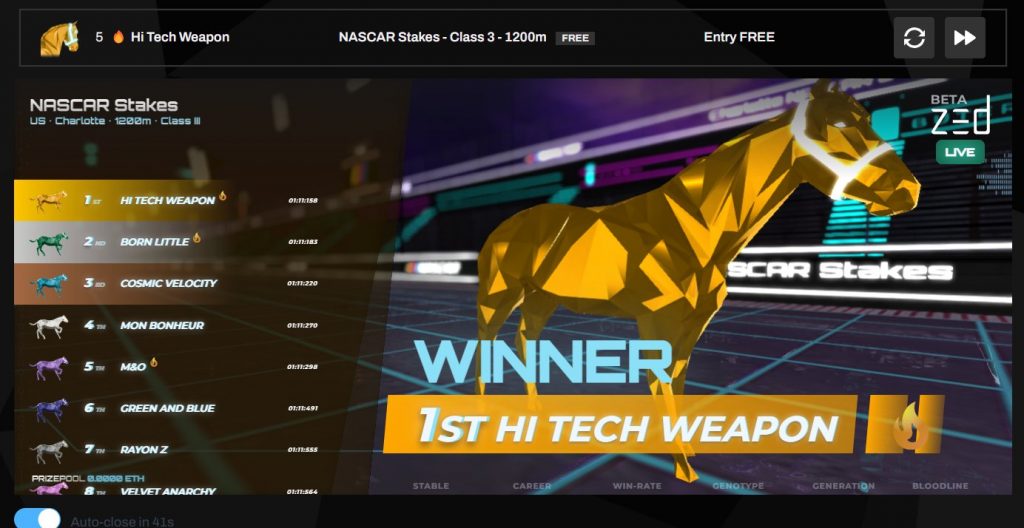 Hi Tech Weapon qualifies with seconds to spare.
In the quarter final Tech had a decent run finishing in 4th place which was enough to progress to the semi-finals.
From there he performed well, coming home strong with a commanding win in the semi which earnt him a place in the C2 sprint grand finale.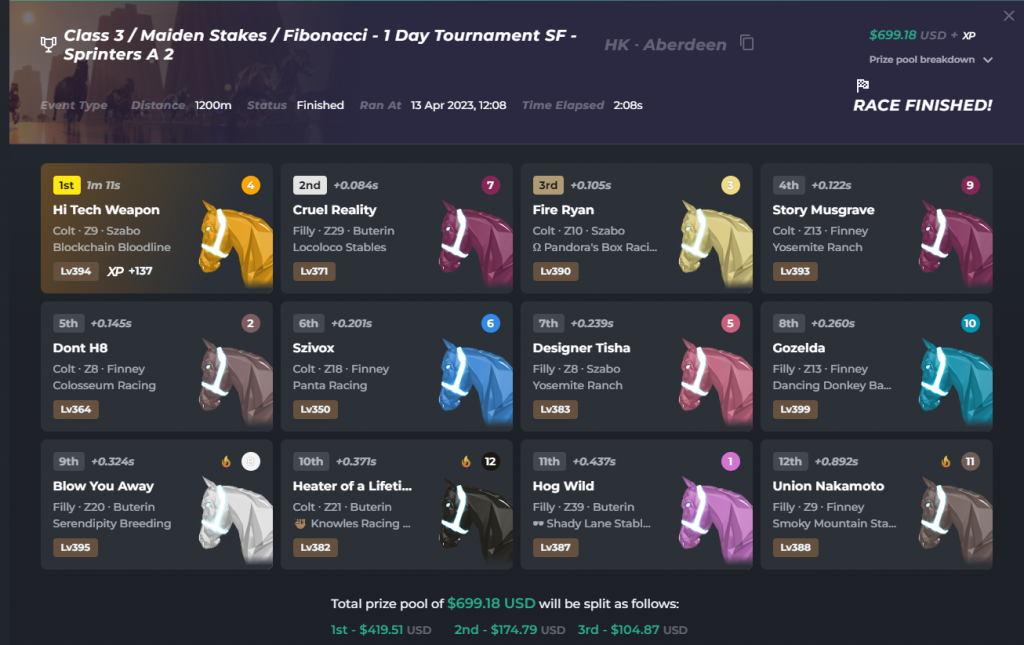 Semi final win for "Hi Tech Weapon"
Unfortunately, despite drawing flames, Tech missed out on ultimate glory running 8th place in the final.
It was an exciting end to a great day for our stable though with plenty of jump out of your seat action and Tech winding up with a 5.5x multiplier on his breed fee.
Plus, it looks as though we have another exciting paid racer that I'm sure will earn some nice prize money for our stable going forward.
For now though I'll be visiting Hawku on the hunt for another Genesis stallion with our winnings in hand.
You can never have too many Genesis horses for breeding stock!
See you on the track guys and see you at the next Maiden Tournament!
Zed Run for the win!