This week Zed Run released a much-anticipated road map featuring details of the games path forward in to 2024 and what a jam-packed update it was.
I've been playing Zed for over two years and it is the most detailed and comprehensive vision statement I have seen so far.
What's more, it sounds as though many of the exciting items contained in the release are well past the ideas phase and some perhaps even nearing the completion phase.
If you're a Zed Head there was a lot to unpack in the update.
Below are my top 5 highlights.
1) Zed working closely with Epic Games/Unreal Engine.
As a long time player I've watched thousands of 3D Zed Run races and so I've been looking forward to a new version of the race graphics for a while.
Some time ago the team teased an amazing looking version of the game built using Unreal Engine and it looks like Zed on Unreal is finally on the way!

If you haven't heard of Unreal and are wondering why I am so excited, some of the best A+ video games on console and PC are built using Unreal.
Unreal is built by Epic games, creators of Fortnite and Zed has been closely working with them on a new graphical upgrade.
That upgrade is nearing completion and I can't wait to see it!
2) 3rd Party Wagering.
If you follow me on X you may have seen my post regarding Zed's partnership with SCCG who are assisting them with partnerships and legal compliance around gambling.
(CLICK HERE FOR NEWS ARTICLE)
It seems that partnership news was a bit of a breadcrumb.
Though this is still a watch this space item, it appears things have progressed a long way and in the roadmap Zed announced that 3rd party wagering through an established gaming partner is very close to reality!

3) Fiat introduction/Market place.

Zed Run is a hell of a lot of fun but it's a complex game to learn and being crypto based adds another layer of complexity that restricts a lot of mainstream players from participating.
They just can't get past the whole metamask, crypto roadblock.
It seems the team realise this fact and are in the process of integrating their own market place and solutions to this problem.
In the near future players will be able to set up a stable and purchase horses and Zed token easily using a credit card.
Having spent countless hours onboarding people myself I can't stress enough how much this will expand the pool of potential future players!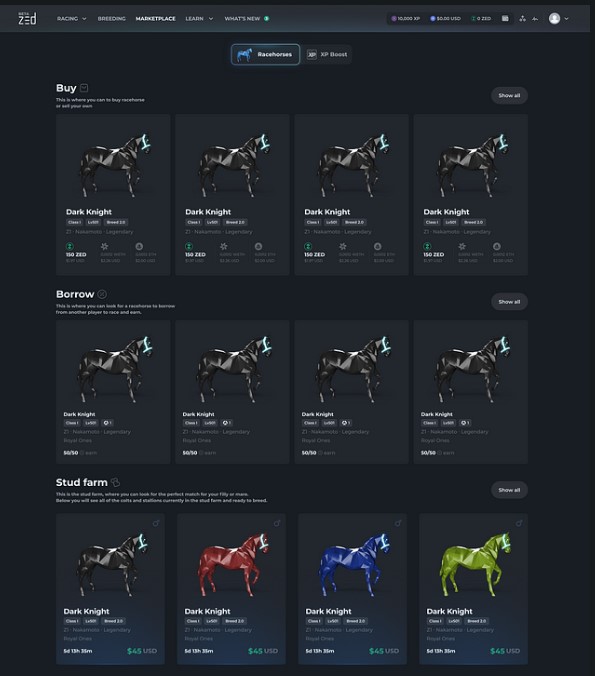 4) Major User Interface Upgrades and user growth.
For Zed Run to be the huge success I believe it will be, it needs to have an intuitive, functioning and exciting UX.
For a complex game like Zed with a lot of moving parts building such a thing is no easy task which is why it excites me that Zed have brought in help from a third-party development team to expedite the process.
The team have announced major improvements to the first-time user experience and in combination with this new UX they will be commencing their long-anticipated marketing campaign in late Q4 and early Q1.
When you take in to account the changes to the ease of sign up in item 3 you can see a path to vastly increased player numbers.
5) Live Ops initiatives.
When I sit down for a session of Zed Run I really just want to hit the track and race as much as I can.
That's why Live Ops made it in to my top 5.
I imagine with on demand Sit N Go's arriving this month I will have plenty of tournament action to quench my thirst for track time, but having an abundance of challenges to accompany that should mean there is more action than I have time to take advantage of.
A variety of excitement to keep us all entertained 24/7, that is just what the doctor ordered.
Summary.
If I had more time, I could have made this in to a top ten list, there was that much on the horizon.
Adjustments to breeding that include cheaper breeding fees, breeding catalysts and enhancement to the breeding ability of Super Breed and Genesis horses, utility and use of the Zed Token, Improved communication from the team, horse retirement, casual and competitive racing options, rewards and so so much more.
I feel the team have taken stock of what the community want from the game and combined that with what the game needs.
They seem renewed, inspired and focused.
What they have released is both a vision and a plan.
A detailed and well-considered plan.
In fact, what excites me most, even more than my top 5 is that many sections of this plan read as though plenty of action to execute has already taken place.
Action prior to an announcement has not always been the format for Zed and that switch in attitude gives me confidence going forward.
If you are yet to read the announcement in full I urge you to check it out. (HERE)
It really is exciting stuff.
Time for some magic, time for the future of Zed.
Saddle up jockeys!