Hello fellow Zedders,
As always our digital nursery has been active.
We kicked off the month's breeding with a foal for the very first Buterin only conditional tournament.
It was great to finally see bloodline based conditional tournaments go live!
We experimented with some 1.0 Buterin genes to see what we could create for the event but we didn't bring home any silverware this time round.
Perhaps when the Szabo conditional arrives this month we will see some success!
Next up was our favourite time of the month, the LJ Maiden.
As per usual we entered our new Vital Line breeds into the LJ tournament and the official Zed Maiden concurrently.
We had 2 fresh foals from the line;
Vital Sensation (Z27 Szabo)  and Vital Bullet (Z24 Szabo).
I have to say, the Maiden fields have gone up a level every fortnight since they began and this time round the competition was brutal.
We bred Vital Bullet to be a sprinter but after testing him in that funnel with disappointing results we had to try him at mid and long distance.
We thought perhaps, somehow, we got the DP wrong but at the longer distances he was even worse.
After 10 discovery races all he had was a lowly 3rd place at the 1400m to show for his efforts.
We went back to the 1200m when he hit class 4, and after he began flaming and hitting the podium we realised he'd just been outclassed by the tough discovery fields this time round.
As a C3/4 sprinter he then went on to reach the QF's of his next tournament but he wasnt at the level we were hoping for. (C1/2)
On the other hand we had no such issues with his sister Vital Sensation.
She flamed in her first 1200m race and the rest of her first 5 qualifiers despite the strong fields. (0/2/2 and a 4th)
With 4 podiums from 5 races she easily qualified for the Zed Maiden A bracket QF though she narrowly miss progression and ran 4th in that race.
Her next five discovery races went just as well including a first dub for stats of 1/2/1 and she was graded in to class 2.
The nerves are always high when a horse goes up in class mid tourney as it's an unknown whether they will compete at the next level but Sensation did us proud.
Of her 9 races in C2 she was able to secure flames in 8 of them with stats of 1/0/1.
Combined with a couple of 4th place finishes under the F1 scoring system and she was well in the hunt in several categories at LJ Maiden 6.
In fact with 1 race to go Vital Sensation was right amongst the leaderboards:
Best Cross – 3rd
Best Z20 plus – 2nd
Best Z10 plus – 23rd
Best Szabo – 4th
Best Overall – 54th
A decent finish and she could top the table for Crosses which is ultimately the niche she was bred to race in.
BUT her last qualifying race was also her first in C1 and we weren't sure how she would fare.
To my cheering she ran home strong taking 3rd place.


Vital Sensation – Record after qualifying.
As far as qualifying goes this was the best performance of any of our Vital Cross breeds so far!
Vital Sensation topped the table for Best Cross while making the Grand Finals in a total of 5 categories.
Best Cross – 1st
Best Z20 plus – 2nd
Best Z10 plus – 9th
Best Szabo – 2nd
Best Overall – 19th
AND the funnel champ sprint grand final.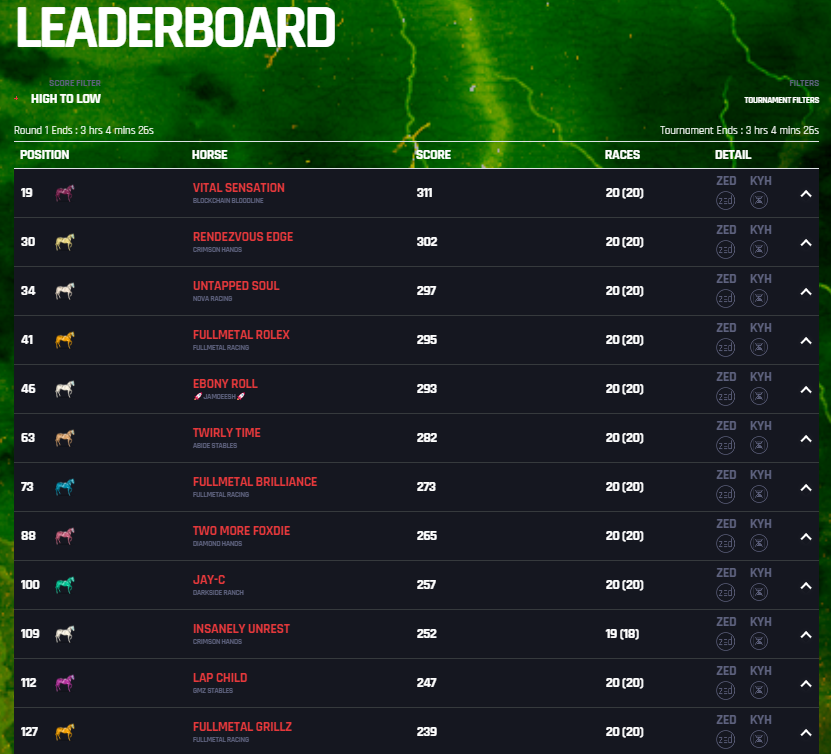 Vital Sensation tops the table for Best Cross.
Unfortunately LJ Maiden 6 was a tale of two halves for us.
Our best performance ever in qualifying but a very disappointing finals.
A Z27 as the 2nd best Szabo in qualifying and even the 19th best overall from hundreds of horses, however she couldn't bring it home in the finals, though I secretly suspect that there could have been stamina issues at play.
She ran a total of 25 finals races back to back and was showing as exhausted when I checked her in the stable.
Or maybe she just couldn't get it done that day with 4th on the ladder being her best finish of any grand final category.
All in all Vital Sensation proved to be the winning link as we move forward breeding that line.
The plan is to match her with our Patriarch Cross "Vital Ambition" in order to breed our first inhouse Pacer.
After that she will be paired with a low Z stallion, there by continuing the Vital line of Cross breed horses.
Most likely using a stud to bring in some fresh genes but more on that later.
We did also breed another entry for that Maiden tournament.
Our Z2 Legendary "Nakamoto Princess" has shown herself to have some breeding talent since the start of 2.0.
The only issue being she is from unraced parents so she can be unpredictable as far as DP goes.
Or so we discovered.
As a 1200m horse we paired her with our Z2 Genesis stallion Ultimate Ears who loves the 1000m/1200m area and created "Angel Assassin".
After 12 races looking for her sweet spot she finally nailed a dub at 1800m.
I guess one of her grandparents is a mid.
She did manage to make the quarter finals and draw flames but finished in 6th place.
Our next trip to the breeding barn was for the following Zed Maiden this past week.
We took our Z8 Szabo "Vital Sign" (Legally Challenged x She's Sensational) and paired him with our Z1 mare "Alacazam".
The jury is out on the resulting foal "Happy Ninja" as were still testing her ability.
That said she did have a very promising run in the maiden tournament.
Her 5 qualifying races featured 2 first places and 2 second places as she finished 14th overall.
What's more, she managed a 3rd place in the second highest A bracket QF before bowing out in the semi finals.
She then picked up flames in her first C2 race so we have hope there and plan to run her in some tournaments this weekend to find out what she's really made of.
To wrap up the month we unexpectedly brought in some great new blood thanks to Zed Run and the Knights Of Degen.
If you haven't spotted it yet the Knights have teamed up with Zed to bring the weekly wrap up blog to life by turning it in to a weekly live stream. (SUBSRCIBE HERE)
I happened to be watching the first episode and was entered in a giveaway for a Zed horse and I actually won!
Knights Of Degen x Zed Run – Episode 1.
To be honest I was expecting something like a Z50 Buterin or entry level horse as a prize which I was going to pass on to a new user.
So I was very surprised when an unraced Z4 Nakamoto Filly showed up in my wallet!
On further inspection I discovered it came from some great genes with grandparents flaming and winning in C1 paid mids.
My wife and I named her "Velvet Slippers" and are currently racing her through discovery.
Regardless of how she performs on the track we plan to breed her with poor old "Posh Omen" an unraced Z4 Szabo Genesis we have that has no breed partner.
If we can get a bit of a grand parent roll to mix with his genes we may just have a good mid distance foal as there is some serious variance and mid distance preference in her ancestors.
After that, if Velvet takes after her 2200m specialist grandfather or her unraced mother who had an unraced father things could get interesting.
We shall see.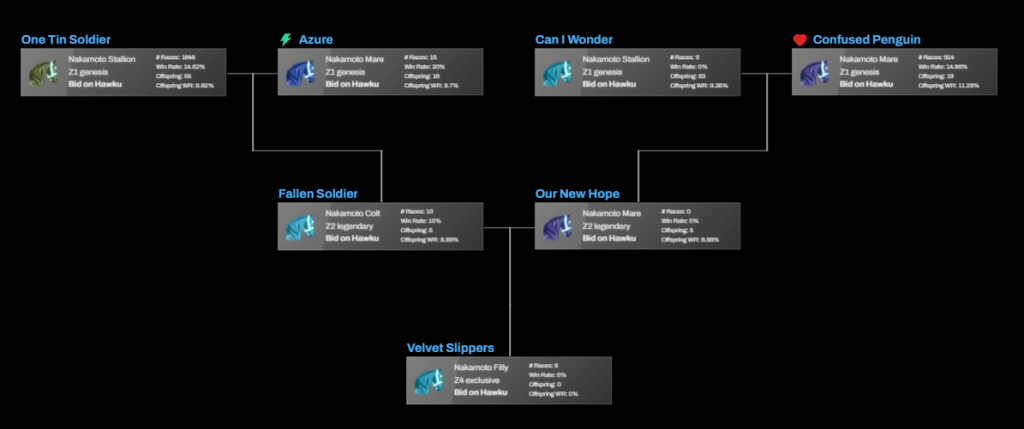 Velvet Slippers lineage. 
Anyhow that's enough from me guys.
Enjoy your weekend guys and good luck on the track!
** Editors note – At time of publishing "Happy Ninja" has just flamed twice in C2 running back to back 1st places!