Greetings digital jockeys and Novus Earth inhabitants.
Sometimes a month seems a long time to wait for a new horse to reach its first breed cycle.
Then I remember how long that would take in the real world and it doesn't seem so bad.
The VITAL BLOODLINE:
The Vital line has seen some very exciting progression along with some handy earnings this past month.
It looks as though we achieved a nice balance of traits in "Vital Ambition", the first Cross breed of this bloodline.
We managed to keep the base ability at a competitive level while also raising  the distance preference above that of his father and grandfather.
I feel it currently sits at about the level of his Great Grandfather who is a competitive C1 Legendary Szabo.
Ambitions time on the track began with a QF appearance in the Zed Maiden tournament.
He then went on to win the Best Cross title in the Lucky Jack Maiden 3 tournament.
FULL TOURNAMENT RECAP CLICK HERE.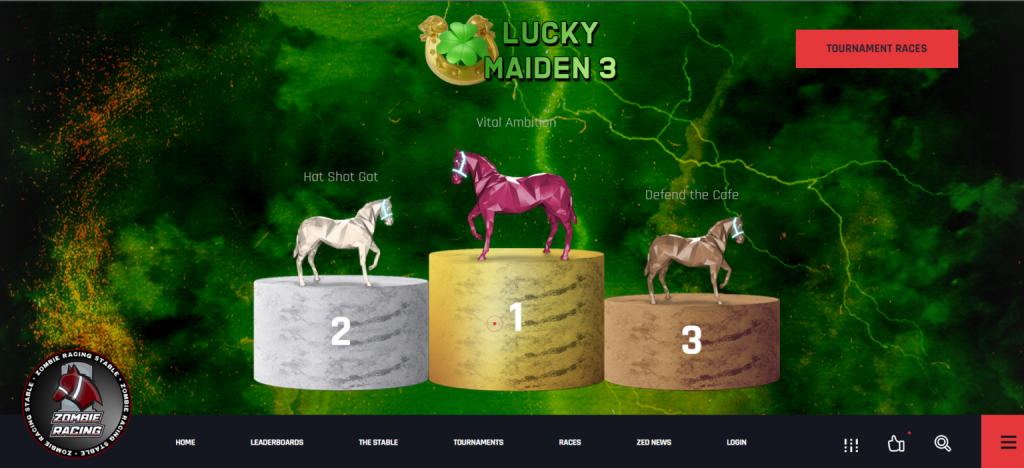 Vital Ambition wins Best Cross at LJ Maiden 3.
From there we entered him in the Z11-99 tournament where he reached the A bracket QF on the back of a great qualifying run of 6 – 2/1/2 with 100% flame rate.
He fell just short of progressing to the SF with a fourth place finish but he did take a flame in the race as the only Cross in the field so we took something from that.
We then entered him in the Zed Run Cross Only Conditional where he qualified for the A bracket QF on a run of 5 races for 1/1/1 flaming in every race.
From there it was a 3rd in his QF, a 1st in his SF and a then a strong run home in the final finishing 2nd overall in the tournament.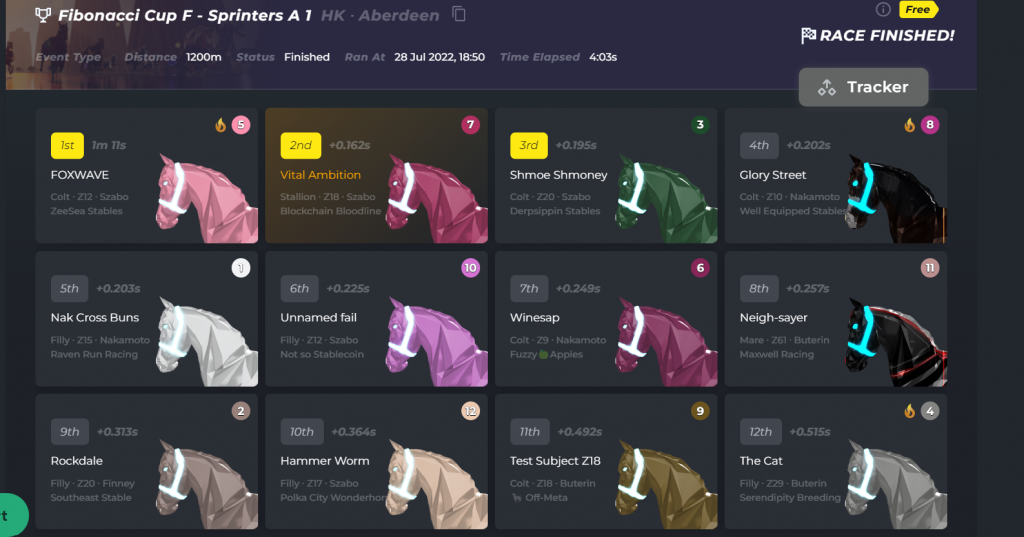 Vital Ambition finishes runner up in the Zed Run Cross Only Conditional.
The next step for the VITAL BLOODLINE was to pair Vital Ambition with our new house bred sprinter "Explosive Attitude". (Z2 Nakamoto Legendary)
We thought we may degrade the overall base ability of the line a bit here but should then see the distance preference surpass any previous breeds from this line.
Or that was the hope anyway.
This pairing gave the line a further injection of fresh sprint genes by way of Explosive's father "Live And Free" (Z1) and a second dose of his grandmother Alacazam's genes.
The end result was "Vital Attack" a Z20 Szabo Cross.
As with all of our important VITAL BLOODLINE foals we set him loose in the LJ Maiden and he did not disappoint.
In fact his run made for one of the most exciting weeks we've had in Zed Run to date.
Attack out did his father qualifying for Grand Finals in 4 separate categories.
They were Best Cross 4th place, Best Szabo 3rd place, Best Z10+ 6th place and Best Z20+ 3rd place.


Vital Attacks race record after 20 qualifying races and a QF.
He went on to take out the Best Z10+ title and he placed 3rd in the Best Z20+ Grand Finals.
He also finished 4th in the Best Szabo Finals too, narrowly missing 3rd place and more eth by 2 points.
You can read a full recap of the tournament CLICK HERE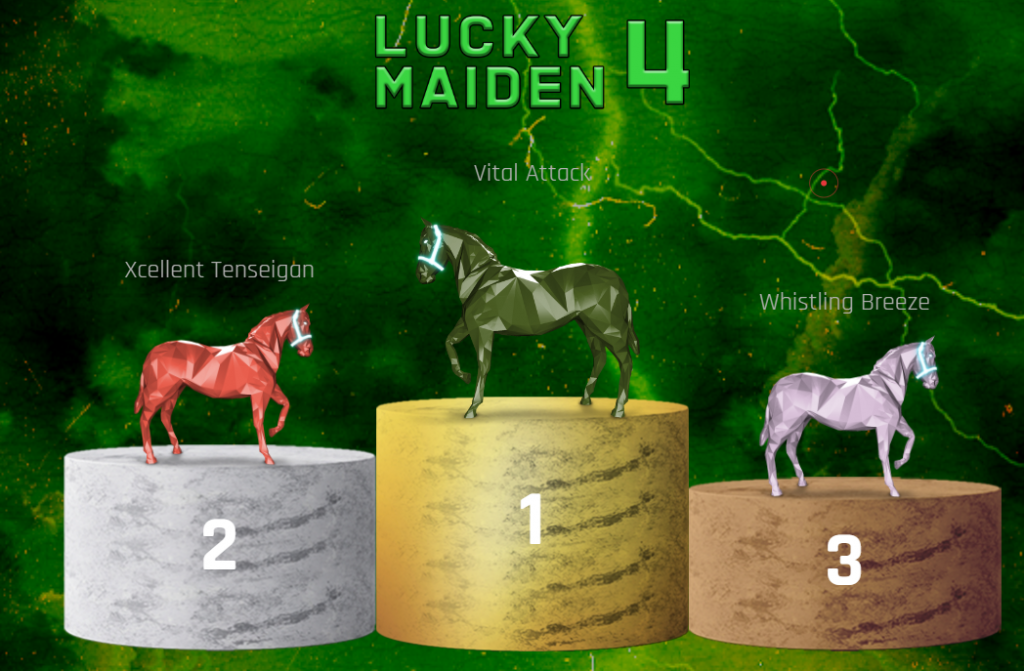 Vital Attack wins Best Z10+ at LJ Maiden 4.
Between the two first edition Cross breeds "Vital Ambition" and "Vital Attack" the bloodline has won 2 tournaments, placed second in another and 3rd in another bringing in about 0.85 eth in profit this past month.
5 breeds in and we feel like we have some great control over the traits in this line.
Very exciting stuff.
Our next step is to amp up the base ability and stack up the inbred traits by breeding "Vital Attack" with "Alacazam" (Z1 Nakamoto) who is his Grandmother on one side of the tree and his great grandmother on the other.
Lets see how that mad science plays out at LJ Maiden 5!
Lastly on the topic of the VITAL BLOODLINE, we have decided to share the line with the public by way of layer 4 "Vital Ambition".
If you're after a competitive Cross for your stable this is for you.
We will be putting him in stud in the next few days so you will be able to pick up a branch of the tree to build on yourself.
If you're considering buying a cover I would suggest pairing him with a very low Z mare to get the best result.
As mentioned we used a Z2 Legendary Nakamoto and the foal did extremely well in LJ 4.
Being a Cross, Ambition has very limited covers, so be warned we won't be pricing them cheaply.
Considering the cost and time that has gone in to the line it will likely be around 0.25 eth a cover.
Anyhow please keep an eye on our Twitter page for further info.
In other very exciting news we brought in a new addition to the stable.
Adding more fiat to buy another expensive horse for breeding purposes was a pivot from the original plan we had but we really did need a stallion.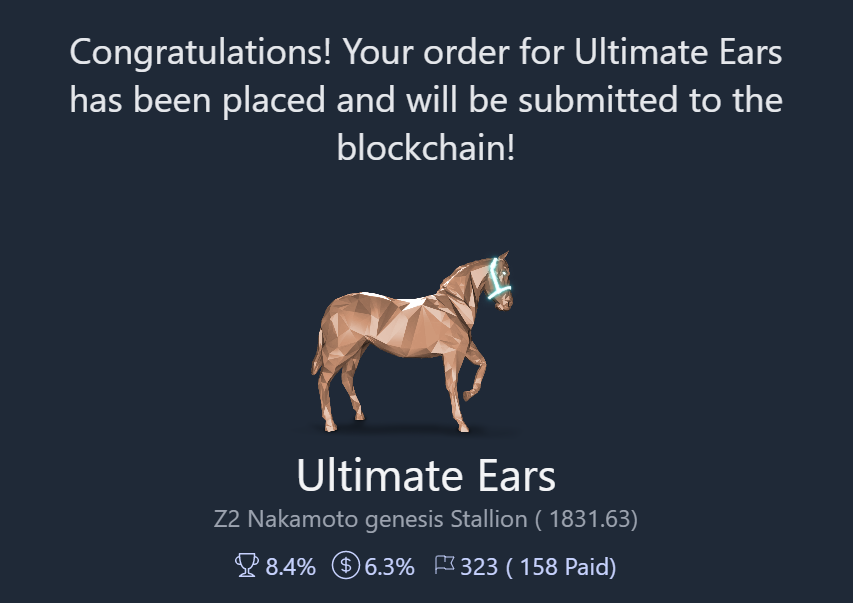 Prior to 2.0 the distance preference of a parent was not an issue, if the parents had good base ability the rest was luck of the draw.
Once the matching of distance preference became important the fundamental structure of our stable changed.
It segmented our stock so that in many cases our breeding pairs were no longer a match anymore.
Looking at our core Genesis breeders the issue was evident in our sprint range.
We had three great female sprinters – a Z1, a Z4 and a Z6 but not a single Genesis male sprinter.
We needed to fill that void and so we purchased  "Ultimate Ears" a Z2 Nakamoto Genesis that should compliment the 3 three aforementioned mares perfectly.
A little harem of sorts.
Ultimate has some nice sprinters distance preference especially at the 1200m length and some serious base ability.
His variance is on the low side but I think long term that will turn out to be a good thing judging by the tone in which Zed communications now discuss the future of that trait. (Stability)
He has the talent to bring in some tournament winnings while he sires various lines and at least in the sprint category we are all set now.

Ultimate Ears – C1 free race record over the 1000m/1200m distances. (Tournament qualification)
So the VITAL BLOODLINE is coming along very nicely but that isn't the only breeding we did this month.
Z200-267 has been sparingly populated breeding territory and that was evident last time the Z200-267 tournament was run.
We entered 2 horses last time round and had one sitting top ten and one sitting top twenty at the end of qualifying but to our disappointment there were not enough entrants so the finals didn't go ahead.
This time around it went ahead but the competition was tougher.
All 3 of our entrants made the QF's but lucked out with 0 for 3 come race time.
Still, we have now bred a half decent Z257 that we can save for later and use as a base for breeding in these high Z conditional tournaments.
On top of that we also bred a nice Z3 Legendary Nakamoto by matching our new stallion "Ultimate Ears" with (You guessed it) "Alacazam"
The foal, a colt we named "Relentless Warrior" fared well in his first 5 discovery races hitting the podium in all 5 to make the A Bracket QF in the Zed Maiden.
He was beaten in the QF so the jury is still out on his ability but were hoping to see some talent reveal itself as we continue to discover the horse.
Anyway that's about all we bred that's worth mentioning this month guys.
As always thanks for reading.
Good luck on the track!