Hello my fellow Zed Heads,
The barn has been busy again this month so I'm back with another breeding update.
(Catch up on last months update first CLICK HERE)
Our Szabo/Vital line has progressed further.
The Vital Force (Z13) and Alacazam (Z1) combination ("Vital Victory") faired reasonably well.
Victory fell short in C2 paids but was able to lock in a couple of C1/2 wins in free races.
The Z1 injection certainly lifted the base ability of the line to a pretty good level but the DP is still short of our target range.
As mentioned last month our next step was to bring the Matriarch of this bloodline "She's Sensational" (Z4) back in to the fold.
In that regard we bred Vital Victory with his great grandmother She's Sensational, creating a Z18 Szabo Cross named "Vital Ambition".
He will be running his griffy in the Lucky Jack Maiden 3.
We're crossing our fingers for some magic here as this is the first time we have tried this inbreeding formula in Zed 2.0.
Whatever happens I hope we at least raise the DP of the line to a C1 competitive level without losing much BA.
Either way, our next move is to stack some solid Nakamoto and Szabo Genesis traits in to the line.
Hopefully by the next Cross or Pacer conditional tournament we have some sort of Frankenstein monster that breaths fire and eats Milkbar Mania's for breakfast!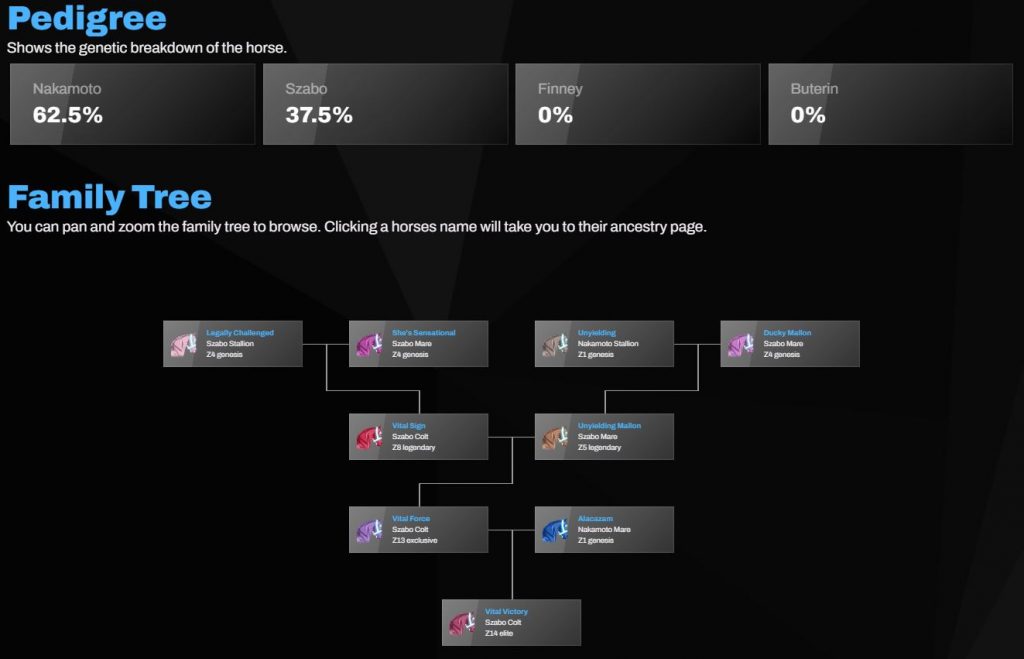 Also in the lab this past month we began experimenting with combinations of our Legendary horses.
All three were entered in the Lucky Jack Maiden 2.0.
Regal Contender x Nakamoto Princess = Sweet Little Rocket (Z4)
Regal Contender x Nakamoto Girl = Classic Edition (Z4)
Vampire Legacy x Unyielding Mallon = Deadly Secrets (Z11)
To be honest I'm not overly impressed with any of these horses.
Not that they are bad horses but our aim is to create C1 tournament qualifiers or better and these didn't hit that mark.
Rocket is a great C3 horse that can flame in C2, Classic is a great C4 horse that can flame in C3 and Deadly looks to be a C4 horse.
They could use some more racing which I'll get to over time unless I receive offers on any of them first.
We also bred a cross for the first Zed Run conditional Cross only tournament (Authentic Chaos Z14) which made the A bracket finals before bowing out.
We then bred two foals for the first Zed Run conditional Z200 – Z267 only tournament (High Zee She and Watered Down).
These two foals did very well in the heats and were sitting in the top 10 and top 20 at the close of qualifying but unfortunately there were not enough entrants in to that tournament so there were no finals but at least they won enough eth to cover the breeding fees.

We also hastily bred a Z124 for the Z100 – Z199 tournament but that horse was so poor that I'll say no more!
With another Zed Run Maiden in the middle of June we bred a couple of "Special" foals for our entry.
We've been reverse engineering our unraced Genesis horses to find out what we have without actually racing them and suspected our unraced Szabo "Posh Omen" (Z4) is a mid distance horse.
So we combined him with a nice 1800m Z2 mare we have named Titanium Beauty.
The result was "Titanium Omen" (Z6) and that confirmed our suspicion once and for all with the foal being born an 1800m specialist too.
The second Maiden bred foal was planned to be a combination of our mare "Alacazam" (Z1) with the infamous "Ratchet" (Z1).
We arranged a deal with Foal In One stables and were ready to breed when the time came.
Unfortunately the breed was sniped and on further inspection I discovered it was Donkey Teeth stables that had got the breed.
Being one of the top breeding stables I decided to let him know he sniped our breed and ask him if he had any top shelf stallions that we could replace the breed with.
He came through like a gentleman and offered us a cover from "Live And Free" which we thought was a great match and so we went forward creating the filly "Explosive Attitude" (Z2).
In a tough Maiden contest both foals made it to the finals.
Explosive made the A bracket QF, finishing 4th (with flames) and just missed out on a SF spot.
Based on that pedigree I tried her out in a C2 paid $2.50 where she flamed and ran 3rd so I tested her at the $10.00 level but that was perhaps a step too far. (4th and no flames)
Omen made it as far as the B bracket Semi Finals after a 3rd place QF finish.
Explosive was also entered in the Zombie Maiden 4 tournament were she put up a strong performance with 5 wins and 9 places from 20 races reaching as high as 3rd on the table and eventually finishing 12th overall.
While on her Zombie run she also qualified for the Fibonacci B bracket finals with 51.3 points, normally enough to make the A bracket cut but competition is heavy right now.
She looks like a definite new member of both the racing squad (clocking top 10% speeds) and breeding squads here at Blockchain Bloodline.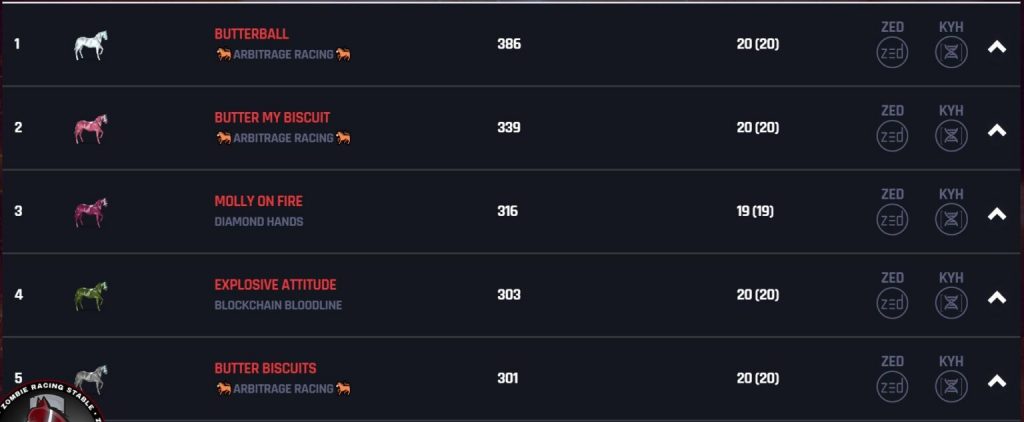 Lastly this month I have been trying to acquire a Genesis Szabo stallion.
Much of our top female talent is concentrated around the sprint funnel with high quality Z1, Z4 and Z6 mares.
On the flip side of that we don't have a Genesis sprinter stallion to pair with them.
The hope is to find a high DP Z3 or Z4 and then create a harem of sorts with the above mentioned mares.
The hunt continues and if you know of a stallion that ticks these boxes please get in touch!
So all in all a successful month with some great bred additions to the stable and some more knowledge gained.
July should be a lot of fun as we trial "Vital Ambition", continue to build out that bloodline and decide on our next bred combinations going forward.
I'll be back with you for an update on all that next month.
Thanks for reading guys!