We're addicted to horse breeding over here at Blockchain Bloodline so October was just what the doctor ordered.
Two LuckyJack tournaments and a $23,000USD juiced Maiden tournament from Zed.
With so much going on we got very busy in the barn, with some good results, some bad results and some results that were just plain interesting.
The Maiden fields were tougher again this month as we all expected.
To be honest at times I'm not even sure if I have a decent horse until it hits the class system.
For me flaming becomes a major early sign of success with a new horse in races this competitive.
There are no soft fields.
Luckily our new Vital Line Cross breed "Vital Is The Name" (Z28 Filly) flamed from the get go in Maiden 1/LJ 7 so I knew we at least had a decent racer on our hands.
She looked the fastest Cross we had bred so far on paper but didn't pick up a dub in her 10 discovery races.
A month or two ago that would have really worried me but in the current environment an 80% flame rate and 50% show rate is good enough.

"Vital Is The Name" stats after first 10 qualifying races.
After discovery our filly hit class 3 for one race where she flamed and took first place which propelled her straight in to class 2.
From there she picked up a swag of first and second places, running up the ladder of the "Best Cross" section in the LJ Maiden to finish second best in qualifying.
Had she won her last race we would have been proud to say a Vital Cross horse had topped the table for 2 months straight.
Unfortunately it was a close third in the final race and a second place overall.


"Vital Is The Name" runner up on the table for Best Cross at LJ 7.
Vital Is The Name also qualified in 5th place in the Best Z20+ category, qualifying her for a second Grand Final.
Yoy may recall we had an amazing qualification run last month but came away empty handed so we weren't getting over excited this time round.
With a 4th place finish in the Best Cross final and a 6th in the Z20+ we narrowly missed out on the podium again.


"Vital Is The Name" – stats after 20 qualifying races.
In other Vital Bloodline news we were very excited to breed our own inhouse Pacer!
If you regularly read our updates you'll be familiar with the Vital Bloodline, the custom line we began on day one of breeding 2.0.
We started off at the Genesis level and bred down to the Cross level finding some success with several of our Cross breeds along the way.
From there we bred the Cross breeds down 4 generations so the latest foal "Vital Sensation" was far removed enough to inbreed with our first and most eth winning Cross, the Patriarch "Vital Ambition".
I hope that makes sense.
As you can see in the tree below we have been injecting a lot of premium Genesis DNA in to this bloodline.
Using only Szabo and Nakamoto genes weve been targeting sprint pedigree while also stacking inbreeds of our best Genesis mares Alacazam (Z1) and She's Sensational (Z4).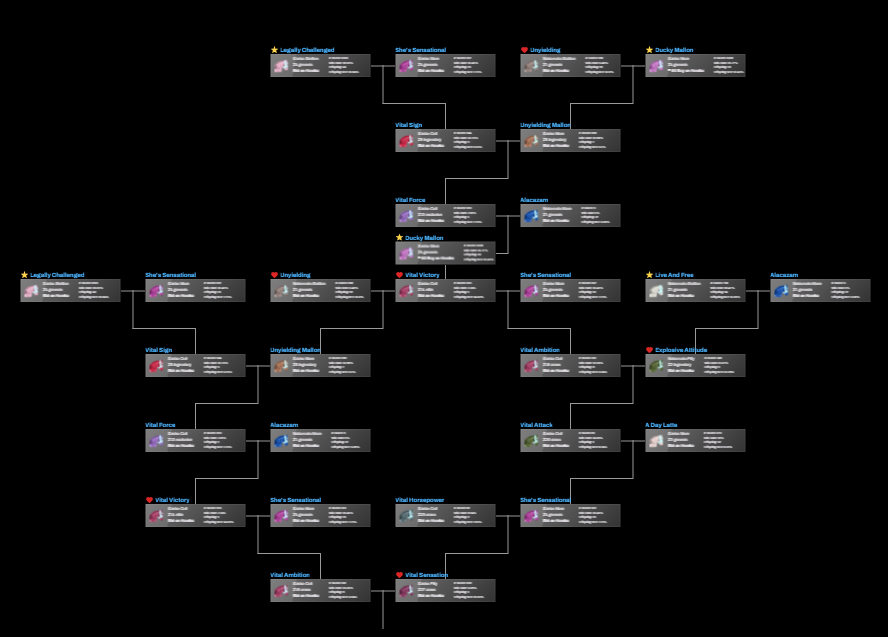 The Vital Bloodline family tree.
So the result of the "Vital Sensation" and "Vital Ambition" union was the Filly "Number 45"
It was meant to be Vital Number 45 but that's another story.
Anyhow the horse is a Z45 Szabo and we hoped for a Jordan level athlete!
At first I have to say I was underwhelmed by the horses performance.
He had to be a sprinter but it was getting beat down with back of the field finishes and not a single flame in its first 8 races.
I narrowed down the favoured distance to be 1400m and managed a flame and two third place podiums for a bit of hope in a pretty average discovery run.


Number 45 first 10 discovery races.
Then we hit class 4 and things changed.
A dub in his second race, another 3 podiums and flames in all 7 of his first races in the class system.
So I thought ok, this is a decent foundation for the Pacer side of the Vital Lineage.
Our aim is to start competing in these Pacer tournaments for real and this little colt is our foundation brick.
45 hit C3 and continued to flame but lost in his eighteenth and nineteenth races dropping him back down to C4 where he flamed and picked up the win to round out his qualifying run for LJ 7.
The funny thing was, I was so convinced of him doing poorly that I didn't bother to check how he was doing on the scoreboard.
By the time I did check he was sitting at 6th overall in the Best Pacer category where he eventually finished somewhere in the top ten.
Not bad.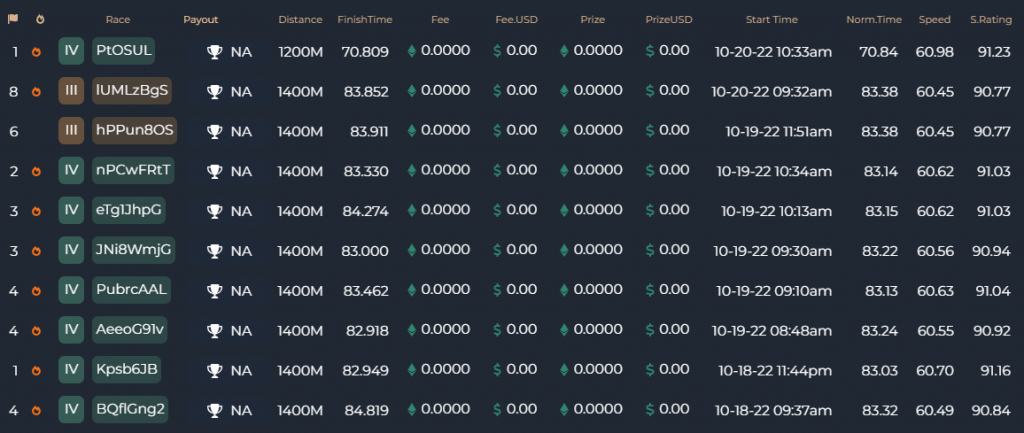 Number 45 first 10 races in the class system.
As far as we know this is the first Pacer born entirely from a 2.0 Bloodline.
(On one side at least)
It took us 7 months from Genesis to here so we were pretty excited to unwrap him.
Though it seems the inbreeding and stacking hasn't made him the next Roid Rager he certainly has shown that despite the drop off in BA from Cross down to Pacer he still has some talent.
If we breed in some high BA for 2 or 3 cycles and pull some of that amazing ancestral DNA it could be game on.
Or at very least it should start to help the Vital Line make some appearances in the Pacer Grand Finals.
Moving on, if you read our monthly breed updates you may recall that we won a Z4 Nakamoto from Zed Run and Knights Of Degen last month.
It turned out "Velvet Slippers" wasn't much of a racer but with all those good ancestors we were more excited about her breeding potential anyway.
We ran Velvet through discovery and found she's a 2400m racer, though as you can see below 75% of her grandparent genes come from the mid funnel.
Her father showed favour at the 2200m so the assumption is one or both of her unraced mother and grandfather were long distance horses.
Mum:Unraced
Gf(mum side): Unraced
Gm(mum side): 1600m (1.80)
Dad: 2200m (1.03)
Gf(dad side):1800m (2.42)
GM(dad side): 1800m (1.62)
Grandparents 75% mid


"Velvet Slippers" family tree.
Our plan here is create a bloodline that we steer back toward the middle distances.
Of course there will always be the holes in the line and the unknowns of the unraced ancestors but the proven middle distance DNA in the line is worth the experimentation.
Should be a lot of fun.
Velvets first breed was with our Z4 Szabo Genesis "Posh Omen".
Though Posh is unraced we believe from 2.0 breeding experiments that he is a mid with pretty decent BA to bring to the table for this bloodline.
There is some strong distance preference and crazy variance in there already.
The breed with Posh, thereby increasing the percentage of mid distance genes worked well creating a foal that has preference for the 2000m distance.
The bad news is it's not going to win any speed records.
I guess it drew a lot of speed DNA from an unraced ancestor or worse from Posh Omen. (See foot note)
We figured the next move is to race the foal some more, evaluate and then either;
A) find a good mid distance stud with the attributes we need to breed with her.
or B) breed her with Posh Again to see what result we get next time round.
We do certainly need the ability to breed more good quality middle distance horses.
In fact we are so heavy on quality sprinters (especially mares) but so light on mid and long distance horses.
A hangover from the change from 1.0 to 2.0 that we will rectify over time.
Our high quality 2400m/2600m horses have been on standby waiting for us to bring in some mares.
Step by step is the order of the day and now that we have a breeding partner for Posh Omen we turned our attention to our other partnerless Genesis horses.
(Pinnacle Z1/Skywalker Steed Z7/Who Dares Win Z10)
We that in mind we bought the mare "Depth Chargers" for a steal thanks to Jake of Ice Berg racing.
This unbred Z10 Filly has 4 ancestors, Breathless Edge, RP, Ama Damblam and The Kidd.
Some top quality long distance blood for sure and we can't wait to see how she combines with our stallions.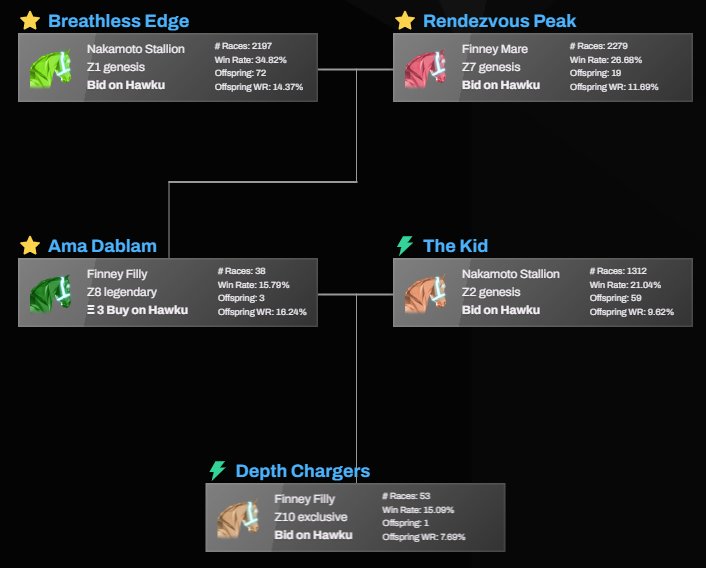 "Depth chargers" family tree.
Depth is a C2 Filly or was a filly until we introduced her to Pinnacle and created "The Path To Glory".
Though the foal is still somewhat in discovery it's looking like a C4 horse so less than we were hoping for.
The plan here is to rotate Depth between our 3 long distance Genesis horses and see which pair works best.
That will add some good (hopefully) Finney and Buterin Exclusives to the roster which should be handy for the niche conditionals.
As a stable these two new additions should allow us to begin expanding from focusing predominantly on the sprint funnel to breeding for all 3 distance funnels.
More to do here but moving in the right direction. (See footnote)
So as the month of October drew to a close we had plans to breed one more horse for the end of month Zed Maiden tournament and that was a wrap.
I'd written my breeding update to this point and had just left some space to include info on our last foal.
Then out of the blue Zed Run announced a juiced $23,000USD Maiden tournament for October 31st.
LJ followed suit by announcing a special LJ 8 to run alongside the juiced maiden and with that our breeding for the month went to the next level.
In advance I apologise for the length of this blog as I pull out the list of our planned breeds.
Our Pacer plans were out, the colt was less than 2 weeks old.
Likewise the next Cross in our Vital Line, also too young to breed.
On top of that a couple of our top breeders would be out of cycle but our list of breed plans is deep and we know how to scramble on Novus Earth!
For the LJ 8 Best Cross/Z10+/Z20+ we re-created the "Vital Attack" breed which netted us the Best Z10+ at LJ 4.
We named the foal "Vital Attitude".
Next up our recent hot prospect "Happy Ninja" came of breeding age the night before the Maiden.
A pairing with our very high BA Z2 Nak "Ultimate Ears" would make a beautiful Z11 Szabo.
Perhaps a good entry into the "Best Exclusive" category in the LJ and a rough hope for the big Zed Maiden.
We named the foal "Happy Handgun"


Happy Ninja – Hot prospect and new mum to Happy Handgun.
The next pairing from our list was a bit of an experiment we've been leading up too.
Our Nak Legendary sprinter "Nakamoto Princess" is a 1.0 horse with some nice variance and Z1 level BA.
She's been a 13% winner in C1 and proven to have some good breeding ability in 2.0.
The downside is she has holes in her lineage so breeding with like distance partners has not created the desired result so far.
We believe there is a pretty decent chance she is pulling mid distance DNA from somewhere so it's time for her to meet Posh Omen.
We feel Posh may be a little low in the DP and variance departments so let's see if the foal can take the best of both parents.
That was Posh Omens last breed as an unraced stallion.
He was our 4th entry in to the Maiden.
It was a big decision for us to race him as he was purchased at the top of the market for a fairly high price compared to current going rates.
Our prediction is that he prefers the mid distance funnel and has strong base ability.
We don't think he has major DP but as a mid-horse even decent DP would potentially be enough to get him over the line if the BA is high enough.
As for variance we really have no idea what he has up his sleeve, it's a hard trait to pass on even when you know exactly how much a horse has.
And if it turns out the boy can run he will likely still have to pass through some lower Z Gennies.
We needed some luck!!
Our 5th Maiden entry was a second breed between 2 of our best.
Our Z1 mare Alacazam and our Z2 stallion Ultimate Ears.
The first foal from this pairing was a C2 weapon that then became a C1 middle of the road horse.
A good breed indeed but if these two really hit I think they could create something special.
The resulting foal this time round was "Warrior Monk"
After selling some horses we bred in the weeks prior we to the jiced maiden we had some eth left over and decided we needed one more entry.
We decided our best bet was to pair Pinnacle with an outside mare.
Pinnacle bred the famous horse "Solid" and we believe with the right pairing he will breed another monster.
After a bit of a hunt around our friend Jake from Iceberg Racing hooked us up again.
Though we were after a long distance mare to suit Pinnacle Jake showed us another mare he had named "Bring Your Suitcase" a Z3 Genesis Szabo.
She preferred the 1800m but had other traits we found very very interesting.
AND she was ready to breed the night before the maiden so we locked that in and spent the last of our eth.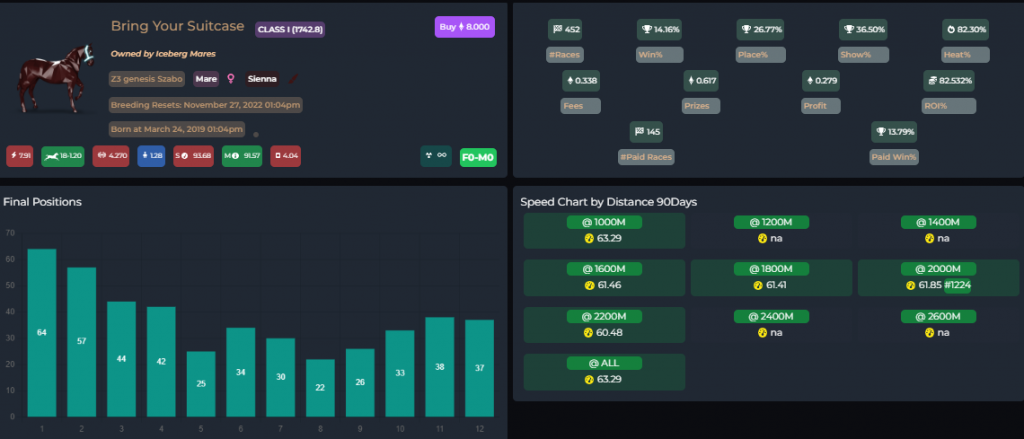 "Bring Your Suitcase" – race stats.
This is probably (I hope) the best set of horses we've taken in to a Maiden Tournament.
That said, this will likely be the toughest fields we've seen in a Maiden to date.
The challenge is on.
Anyhow I'll wind the blog up here guys and if you made it this far thanks for reading.
Oh and how did the horses go in the tournament?
See the results below:
HORSE RESULTS
Vital Attitude
Zed Run Maiden
Qualifying: 5-1/1/1
117th place overall
Finals: 6th place in QF
A bracket
Lucky Jack Maiden
Qualifying:
Best Cross: 3rd
Best Z10+: 8th
Best Z20+: 3rd
Best Szabo: 4th
Finals:
Best Cross: 9th
Best Z10+: 5th
Best Z20+: 4th
Best Szabo: 8th


"Vital Attitude" finishes as 3rd Best cross in qualifying.

"Vital Attitude" race record after qualifying.
Happy Handgun
Zed Run Maiden
Qualifying: 5-1/0/1
283rd place overall
Finals: 5th place in QF
B bracket
Shades Of Glory
Zed Run Maiden
Qualifying: 11-1/1/1
270th place overall
Finals: 6th place in QF
B bracket
Warrior Monk
Zed Run Maiden
Qualifying: 5 -2/0/0
58th place overall
Finals: 6th place in QF
A bracket
Atom Split
| | | |
| --- | --- | --- |
| Zed Run Maiden | Qualifying: Did not qualify | Finals |
Posh Omen
Zed Run Maiden
Qualifying: Did not qualify
Finals
Lucky Jack Maiden
Qualifying:
Best Genesis: 8th place overall
Finals: 8th place
FOOTNOTE
Since racing Posh Omen we have discovered that he is in fact a sprinter.
Through further breeding with our unraced Z1 Pinnacle we have also discovered (99% sure) that he is a sprinter with a split profile. (1000m/1800m fav distances)
Though it has thrown some planning out and has made some of our recent breeds redundant we are pretty excited to now have plenty of low Z male and female pairing stock in a matching funnel.
Our best breeding mares are all sprinters.
More on that next time!