The establishment period continues here at Blockchain Bloodline as we build out our stable for the future of digital racing.
The pieces of the puzzle are coming together and we are proud to announce 3 new additions to the stable and breeding program.
Along with our Nakamoto/Szabo family tree and our Szabo/Finney family tree we will now also be creating a line of Nakamoto Exclusive horses.
These horses will mostly be for inhouse racing but we will also be selling a few here and there to help pay the Zed bills.
With our recent acquisition of the Z1 Nakamoto Stallion "Pinnacle" we thought this move would be the logical next step.
Pinnacle can be part of our Nak/Szabo mix and also father his own pure Nakamoto bloodline.
So we have set up a little harem just for him.
The 3 new Legendary Filly's that make up his harem are all Z2's, unnamed/unraced and all from superb stock.
(Shout out to "Satoshi Stables" for the deal on these horses.)

– Filly A is the daughter of Z1 stallion "Insane Minute" father of "Ultimate Ressie" who has a record of 51 – 28/8/9 and a heat rate of 100%.
Along with scintillating form on the track Ressie has also bred many very successful offspring of his own.

– Filly B is the daughter of Z1 mare "Fragile Glass" who's offspring have a combined record of 118 races for 33 wins and 49 places.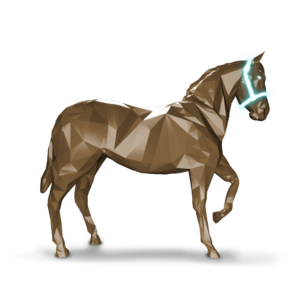 – Filly C is the daughter of Z1 stallion "Fallen".
As you can see in the chart below, Fallen's offspring love to win.

So for now we will head to the barn to name our new Filly's and then get to work learning about each horse and how they perform on the track.
Hopefully we have a monster in the midst.
Breeding will come after that and we will keep you updated with our progress.
It's just a hunch but we feel as though the combination of Pinnacle and the great stock we have just brought in will equal some victories on the track!