Today we're very happy to announce the addition of two new horses to the Blockchain Bloodline stable.
They will be going straight into our breeding program.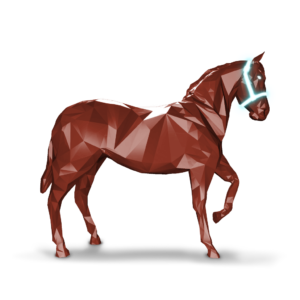 The first is "Skywalker Steed" a Genesis Z7 Finney Stallion.
He has a record of 10 – 1/1/0 with average odds of $10.36.
That said he has been purchased for breeding and in that regard he has 2 foals with under $10 odds out of three he has sired so that shows good promise.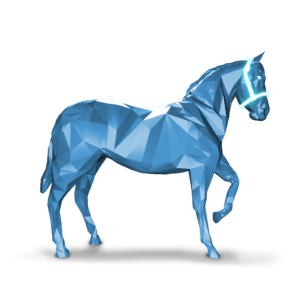 The second addition is "Fear Factory" a Legendary Z10 Finney Stallion.
He has a record of 83 – 11/12/7 with a win rate of 13.25%.
Again this is a horse for breeding though, he has had one foal but it was unraced so I couldn't get much there however his mother has consistently produced foals in the $10-$12 dollar range.
Consistency is something we hope both horses we have bought can add to one of our bloodlines.
After today's successful purchases that's the end of the shopping for now.
With the prices of Genesis horses in today's market getting so hot we will certainly have to bring in some outside genetics from stud horses and networking but this will be the nucleus of our first two custom bred bloodlines going forward.
We're are super happy with the results and excited to put our mad scientist plans in to action.
Our final list of breeding stock is as follows;
1) Posh Omen – Z4 Szabo Genesis Stallion. (Unraced)
2) She's Sensational – Z4 Szabo Genesis Mare. (67 – 10/12/4 Class 1)
3) Hope Is All We Got – Z2 Nakamoto Legendary Stallion. (45 – 0/1/5 Class 2)
4) Your Mum – Z8 Legendary Szabo Filly. (48 – 3/2/4 Class 2)
5) Skywalker Steed – Z7 Genesis Finney Stallion. (10 -1/1/0 Class 3)
6) Fear Factory – Z10 Legendary Finney Stallion. (83 – 11/12/7 Class 3)
All in all we expect to be breeding about 35 to 70 times over 6 to 12 months (depending on when we gets filly's/colt's) to reach our first target stage and create foals for each of our bloodlines but we will be testing racers at different stages of the lineage.
It should be a lot of fun and hopefully if we are correct it should yield some absolute champions.
If you would like a deeper dive in to our horses you can check out our stable which also includes a couple of racers at KYH just CLICK HERE